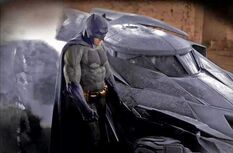 Damian Wayne is Bruce Wayne's son, born from Talia Al' Ghul.
Damian tries to train with Bruce to become the next Robin.
Takes place in Son of Batman, but in a Alternate universe.
Chapter 1: Damian Al' Ghul
Edit
Damian stepped out of the Batmobile and saw the Bat-cave.
"This is where we train, Bruce?"
"It's Father, and yes. Alfred!"
The Dark Knight called for his butler, Alfred.
Aflred stepped to Bruce, with his hands tied back.
"Yes, Master Bruce?" Alfred asked.
"Get my son a new room, put it next to Dick's."
"Yes, Master Damian will have a new room in just a moment."
Community content is available under
CC-BY-SA
unless otherwise noted.